GIPOD - The Generic Information Platform Public Domain
Published at 24/01/2023
Last update 08/02/2023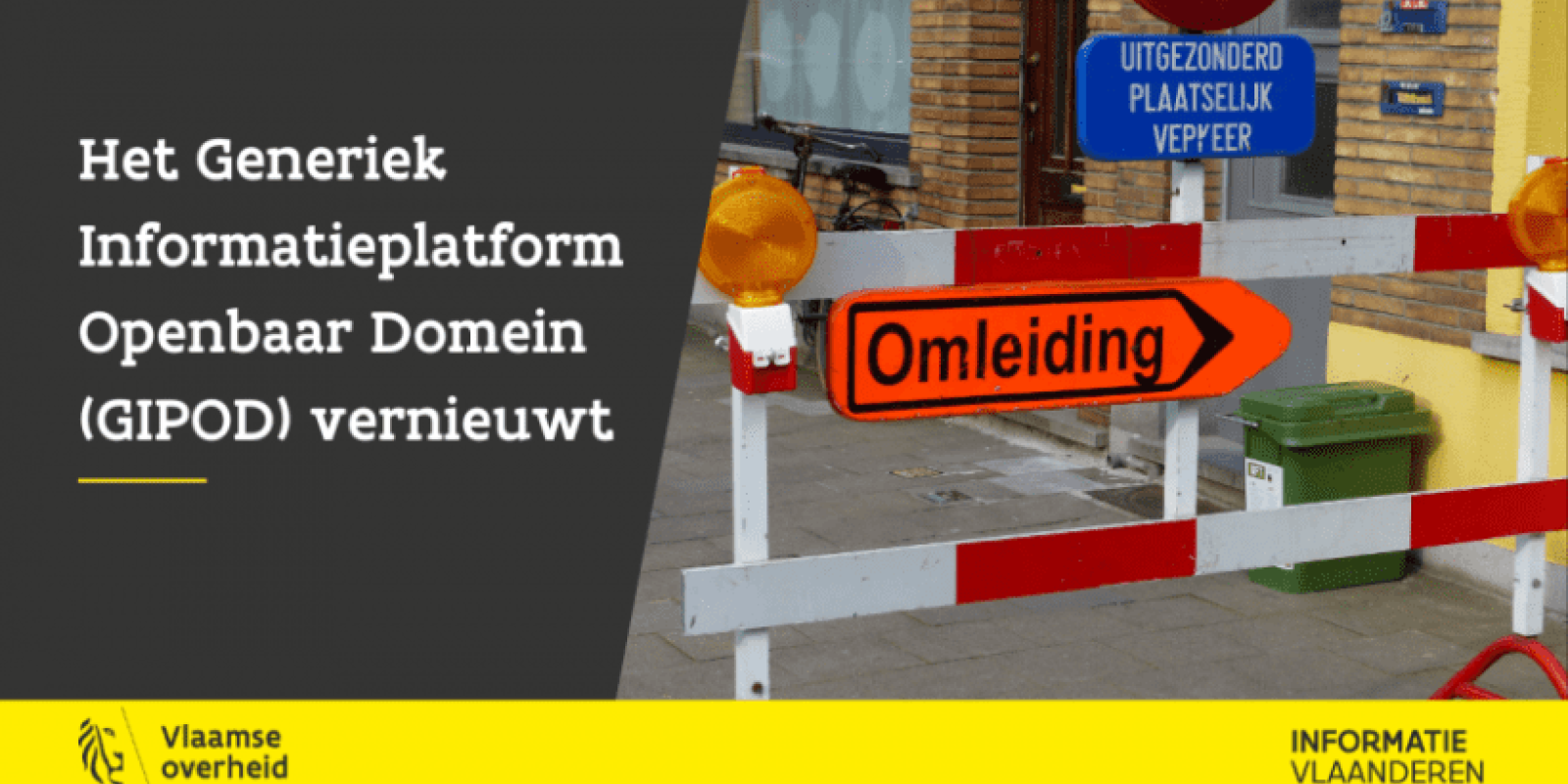 Description of solution
The Generic Public Domain Information Platform (GIPOD) brings together as much information as possible on operations and events in the public domain. It improves coordination between utilities and road works. This makes it easier to avoid operations on diversion routes and to detect conflicts between operations and events. 
Tactical Objectives
Minimise hindrance caused by planned public domain occupancies by facilitating coordination between groundworks (road works, utility works...) and avoiding schedule conflicts (in time and space). 
Provide an overview of location and initiator of registered public domain occupancies. 
Optimize and simplify the information flows and administrative processes related to public domain occupancies. 
Provide access to this information to services of public interest, such as public transport, satellite navigation systems, etc as open linked data.   
Realizing the principle of unique data collection by linking data and systems.
Methods
Set-up co-creation between different stakeholders within the ecosystem: local (regional or municipal) authorities, the utility sector, public transport, road owners, etc.  The co-creation is governed by a steering committee and consists of several working groups: 
Business working group: analyses business requirements and processes, and how these will be fit into the workflow of the different players in the ecosystem 
Technical working group
Semantical working group
Legal and financial working group: in this working group the amendments on the GIPOD decree are prepared, including: rdefining roles and responsibilities, establishing deadlines and obligations and incorporating sustainable financing by decree.
The co-creation is documented in a co-creation website, which contains all the decisions and information gathered by the different working groups.
The solution has been implemented using the Agile/SCRUM methodology. The solution consists of a web application, a private API and a public API. The web application provides end users with easy access to information, while the private API brings together the component sub-systems into one system. The public API and LDES streams provide access to a subset of open data for public use. LDES or Linked Data Event Streams, a new interoperable data publishing strategy and living standard within SEMIC enables you to publish any dataset as a collection of immutable objects
In order to be able to expand the solution according to new discoveries and market requirements, sustainable financing has been put in place.
Functional requirements
The project is managed by a team consisting of Digital Flanders professionals and specialised external professionals.
Digital Flanders: 
Product owner 
Business and functional analyst 
Lead architect 
Project management 
Relationship manager 
External: 
Developer 
Tester 
UX-designer 
Results and Impact assessment
In 2021, the number of registrations via GIPOD doubled, to a total of 420,172 registered intakes. The more complete the GIPOD platform is, the better it will be at guiding the path and coordinating activities.
Dependencies and constraints
The success depends on the commitment of the actors involved.
Go to Solution